Con su característica mirada de perpetuo asombro, ni un gramo de grasa y el pelo sospechosamente libre de canas,
Paul McCartney
-a punto de cumplir setenta años- presenta nuevo disco.
Uno de versiones. Quién lo diría del autor de
Yesterday
,
Let it be, All my Loving
y tantos otros himnos tarareados hasta la saciedad. Quién lo imaginaría de uno de los compositores con más éxito de la historia de la música pop.
Todo tiene su explicación.
Kisses on the bottom
(que puede traducirse como
Besos en el trasero
, un verso del primer corte del álbum) es una recopilación de las composiciones clásicas estadounidenses con las que Macca creció.
Standars
en versión jazz como
It's Only a Paper Moon
que de niño, tumbado en la alfombra, escuchaba a su padre tocar al piano.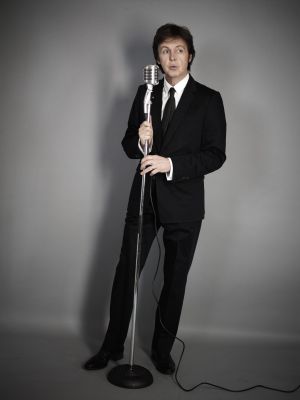 La cita para la presentación internacional es en una sala de reuniones de un hotel londinense. Entre velas perfumadas, ramos de flores y detalladas instrucciones de la discográfica, McCartney se enfrenta teatrero a los periodistas, gesticulando un puñetazo pugilístico al aire. Desde el principio deja claro que hasta el más influyente ha recibido influencias. Que ese tipo de piezas de pelaje
hollywoodiense
tan a menudo pasadas por alto son indispensables para entender el sonido
beatle
: "Esas canciones tan bien estructuradas compuestas por Gershwin, Harold Arlen, Cole Porter son joyitas. John [Lennon] y yo las conocíamos bien aunque decidiéramos ir en otra dirección. Pero si uno se fija, nuestros temas son diferentes a los del
rock and roll
clásico. Tienen una pequeña introducción y cambian de clave. Ahora me doy cuenta de que la influencia de la música que escuchaban nuestros padres las hace diferentes".
En su primer álbum de estudio en casi cinco años, McCartney se dedica exclusivamente a cantar. La parte instrumental se la deja a
Diana Krall
y su banda. "Diana ha sido muy importante en este disco. Es una gran artista, con un enorme conocimiento musical", dice de su colaboración con la vocalista y pianista de jazz. Si no ha grabado este disco antes, asegura, es porque temía parecer uno más aprovechándose del tirón de los clásicos: "Todo el mundo hace versiones de
Cheek to cheek
o
The way you look tonight
. Rod Stewart incluido", comenta aprovechando la ocasión para lanzar una pulla a uno de sus compañeros de la escena musical de los años sesenta. "No quería que el público pensara que me subo al carro, así que elegimos piezas poco evidentes y menos conocidas".
contrajo matrimonio con la millonaria estadounidense
Nancy Shevell. En
My Valentine
, una de las dos piezas originales que contiene el disco, se atisban escenas de la extendida luna de miel (su tercera) que está viviendo: "Nancy y yo estábamos de vacaciones en Marruecos. Empezó a llover pero a ella no le importó lo más mínimo. El hotel, con la excepción de un par de camareros estaba casi vacío. Había un piano, me senté y salió sola como sucede con las mejores piezas".
McCartney presume de que al contrario que la de sus contemporáneos, su voz en
Kisses on the bottom
sigue siendo tan aguda como en su juventud. Cierto que, a pesar de no ser su trabajo más original, mantiene una textura
naif
y ligera de canción de cuna, inusual para un hombre que todo lo ha visto y todo lo ha hecho.
La vida inocente
"Me mantengo gracias al sexo y las drogas", exclama. "Bromeo. La pura verdad es que tienes que amar lo que haces. Yo sigo disfrutando de la vida inocentemente. No tengo pensado jubilarme, aunque me lo pregunten a menudo. ¿Para quedarme sentado frente a la televisión? Tendrán que sacarme del escenario a rastras".
Recientemente se ha atrevido con la partitura para el ballet
Ocean's kingdom
, una fantasía subacuática con mensaje ecológico. El carísimo proyecto en colaboración con el New York City ballet y
con su hija Stella
como diseñadora de vestuario no ha recibido críticas precisamente benevolentes. Pero esa es otra historia.
Con un álbum recién horneado, nueva esposa y la posibilidad de que participe en las celebraciones olímpicas de Londres 2012, no hay nada que detenga a este abuelo de ocho nietos. Es imposible negar su inagotable energía, sin embargo algo incita a sospechar que McCartney se resiste a privar al público de su trabajo porque comparte la muy extendida opinión de que nada ni nadie ha podido llenar el hueco que dejaron los
Fab four.
"Los Beatles fueron muy especiales", admite. "Fuimos casi los primeros. Se ha hecho tanto y tan bueno que los músicos de hoy lo tienen difícil. Hay bandas excelentes, como Coldplay y Foo Fighters. Pero nunca conseguirán ser tan buenos como los Beatles".
DIRECCIÓN DE LA NOTICIA / AUTORIA:
http://cultura.elpais.com/cultura/2012/01/20/actualidad/1327095243_908614.html