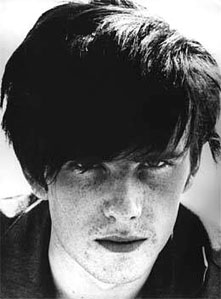 En el mundo del rock hay tantas historias trágicas como granos de arena en la playa. Stuart Sutcliffe, para muchos desconocido, es una de ella. Por si usted no lo sabe, Stuart fue el bajista original de The Beatles. La historia de el Beatle olvidado es la que revisaremos hoy en Biografías Pop.
Stuart Sutcliffe nació en Edimburgo, Escocia, en 1940. Cuando tenía dos años, la familia Sutcliffe se mudó a Liverpool. Desde su infancia ya mostraba enormes habilidades artísticas, sobre todo para la pintura. Cursó estudios en el Art College de Liverpool, donde a los 19 años lo consideraron como el más talentoso y prometedor estudiante, además de sobresalir por su presencia, con un aire a James Dean, y su intensa vida bohemia.
En aquella escuela fue donde conoció a John Lennon, quien se convertiría en su amigo inseparable durante el resto de su vida. Fue el mismo Lennon quien convenció a Stu, como le llamaban, a unirse a su banda de Rock and roll. Según Paul McCartney, Stu vendió una de sus pinturas en 1959 por 65 libras y con aquel dinero compró un bajo eléctrico alemán marca Hofner, el cual muy difícilmente sabía tocar. Según Paul "era mejor tener un bajista que no sabía tocar que no tener bajista". En algunas de las primeras fotos del grupo cuando aún eran desconocidos se le puede ver tocando de espalda al público para ocultar su falta de práctica. En realidad su interés por ser parte de una banda de Rock and Roll, además de su amistad con John, era el de reforzar su imagen de "bohemio" en el instituto.
Junto con Lennon, Stu fue quien ideó el juego de palabras "Beatles" (que resultaba de "Beetles", escarabajos, y "Beat", el tipo de música que ellos hacían). Surge así en su etapa inicial el grupo "Long John and the Silver Beatles", posteriormente sería solamente "The Silver Beatles" y finalmente el nombre con el que pasarían a la historia, The Beatles.
Para 1960 Los Beatles tenían una cargada agenda de conciertos en Hamburgo, Alemania, llegando a tocar hasta seis o siete horas por noche. Esta etapa es considerada crucial en la historia de la banda, pasando hambre y frío, metidos en peleas y líos de faldas. El grupo pernoctaba en el Bambi Kino, que era un cine porno. Sin ventanas, con colchones cubiertos con banderas británicas como frazadas, tampoco había ropero y una bombilla de luz los iluminaba. Si tenían que ir a lavarse, iban al baño del cine. Los de Liverpool pasaban así de ser adolescentes aficionados a proyectos de adultos superestrellas.
En palabras del mismo Stuart Sutcliffe: "Hemos mejorado cien veces desde que llegamos y nuestros más grandes éxitos son, What´d I say, Tutti frutti, Long Tall Sally, Rock n´roll Music y unos cuantos más".
Es en esa época cuando Los Beatles tuvieron una pelea que traería consecuencias. Se enfrentaron a un grupo de borrachos, recibiendo golpes varios. El que saldría peor parado sería Stuart, quien recibió una patada en la cabeza, golpe que más tarde pasaría la cuenta.
Pero Stuart estaba a apunto de rechazar la ruta a la gloria del rock n´roll y perseguir su deseo original de ser un pintor. Un sentimiento que se intensificará al conocer a Astrid Kirchher, con quien inicia una intensa relación. Los nuevos amantes buscaron un lugar para escaparse de la banda y también donde él pudiese pintar. Como consecuencia de la relación, Stuart faltaba a los ensayos de la banda y eso enfurecía a Paul McCartney, pero éste era el aventurero Stu que Lennon admiraba.
En diciembre de 1960, The Beatles recibieron la visita de la policía de Hamburgo porque George Harrison, guitarrista de la banda, sólo tenía diecisiete años y fue deportado inmediatamente. Una vez que fueron liberados de las acusaciones de intento de incendio deliberado del cine, John, Paul y Pete Best (el primer baterista de la banda) lo siguieron de vuelta a Inglaterra. Stuart decidió quedarse con Astrid en Alemania.
Después de algunas presentaciones en Liverpool, le ofrecieron al grupo más trabajo en Hamburgo. Stuart, que había llegado a Liverpool, regresó antes que todos para estar con Astrid. El corazón de Stuart estaba cada vez menos con The Beatles. El ritmo era demasiado. Fue entonces que la relación entre Sutcliffe y McCartney, se volvió más áspera. Paul sintió que Stuart era más un deseo de John que un Beatle comprometido a tiempo completo.
Finalmente Stuart decidió no hacer más esa música de rock n´roll y dedicarse a la pintura y a su relación con Astrid. Paul McCartney tomó el lugar de Stuart en el bajo y la banda siguió su vertiginoso camino hacia el éxito y la fama.
Mientras tanto, Stuart comenzaba a tener problemas de salud. Desde la pelea en que fue pateado en la cabeza que sufría constantes dolores, llegando incluso a no poder caminar por las constantes jaquecas y desmayos que aquello le provocaba. Muchas son las historias sobre su muerte, pero según comentó Astrid, el ex Beatle cayó enfermo, postrado en la cama, pálido, falleciendo en la ambulancia camino al hospital el 10 de abril de 1962 a consecuencia de una hemorragia cerebral, contando apenas con 21 años. Días después los Beatles lanzaban su primer single Love me do y la fama les comenzaría a llegar.
Según Astrid Kirchher, cuando les dio a la banda la triste noticia, Pete Best simplemente rompió en llanto, Paul la abrazó para consolarla, y John enloqueció. Enloqueció tanto que rió hasta llegar al llanto. Tal vez la muerte de Stuart estuvo con él por el resto de su vida.
Tiempo después, en casa de Astrid, John pidió ser fotografiado en el estudio donde Stu pintaba sus óleos, posando igual que su difunto amigo. Su legado es una aclamada colección de pinturas que han sido exhibidas en todo el mundo.
Y esa es la historia de un Beatle al que no todos conocen, uno que prefirió retirarse y no ser parte de la Beatlemanía que durante años volvería loco al mundo. El Beatle olvidado, Stuart Sutcliffe.
fuente:
http://biografiaspop.blogspot.com.es/2011/07/stuart-sutcliffe-el-beatle-perdido.html