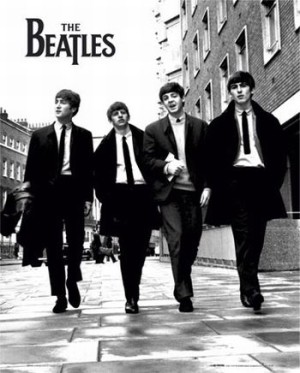 H
oy hace 43 años los 4 grandes de Liverpool, John Lennon, Paul McCartney, George Harrison y Ringo Star, anunciaron que nunca más volverían a tocar juntos.
El 10 de abril de 1970 Paul McCartney fue el encargado de decirle al mundo que los Beatles terminaban con el sueño de la música.
Los intérpretes, que no rebasaban los 20 años de edad, se lanzaron al estrellato con su álbum debut "Please please me", que ocupó el primer puesto en la lista británica durante 30 semanas. Época en la cual realizaron 11 discos más, giras mundiales, películas, premios, reconocimientos e inclusive en 1965 la reina Isabel II de Inglaterra los nombró miembros del Orden del Imperio Británico.
De 1962 a 1970 el mundo experimentó uno de los fenómenos más representativos de la industria musical con el surgimiento de la banda de rock-pop The Beatles que protagonizaron un hecho que fue noticia en todos los diarios de la época y que rápidamente le dio la vuelta al mundo lamentando la separación de la exitosa banda inglesa.
El frenesí que desataron entre los jóvenes de la época llegó a su fin el 10 de abril de 1970 cuando Paul McCartney anunció su separación del cuarteto, que a su vez desencadenó la disolución de The Beatles el 31 de diciembre de ese mismo año.
Derek Taylor, prensa del grupo, fue el encargado de armar la gacetilla con el cuestionario y las respuestas de Paul para mandarlo a todos los medios.
"No dejé a The Beatles. The Beatles dejaron a The Beatles, pero nadie quiere ser el que dice que la fiesta terminó", contó McCartney años después en "Anthology" la autobiografía del grupo.
Ya pasaron 43 años y la noticia sigue sorprendiendo a los fans de los cuatro grandes de Liverpool. "¿Puede decirse que los Beatles se han separado?' 'Sí. No volveremos a tocar juntos", escribió McCartney. Por esos días, el músico estaba promocionando su primer trabajo como solista.
Durante años los seguidores de la famosa banda aseguraron que Yoko Ono, pareja de John Lennon, había sido la "culpable" de la separación del cuarteto. McCartney, en marzo pasado declaró a una revista especializada en música rock que Yoko Ono hizo enojar al grupo. "Cuando ella (Yoko) se presentó en el estudio y se sentó en medio de nosotros, haciendo nada, aún admito que todos estábamos enojados", declaró el cantante.
En ese entonces declaró que "Ella ciertamente no rompió el grupo. No creo que puedas culparla a ella de nada. Cuando apareció Yoko, parte de su atractivo fue su parte más vanguardista, su visión de los cosas. Ella le enseñó una forma diferente de ser, que le resultaba muy atractiva. Por eso, era el momento de John para irse".
Por su parte, Yoko señaló que fue Paul quien separó al grupo, "pues tanto John como Ringo y George querían dejar el grupo, porque sentían que se estaban convirtiendo en la banda de McCartney", declaró en 1987 a la periodista Joe Smith, quien en diciembre pasado reveló las declaraciones en un libro.
Sin embargo, apenas en octubre del año pasado, McCartney aseguró que Yoko no tuvo nada que ver en la separación de Beatles.
La banda se encargó de desmentir los rumores que culpaban a Yoko y afirmaron que fue la falta de motivación por mantener el grupo, además de los problemas financieros de su disquera y el inicio de carreras en solitario de los miembros de la agrupación.
La separación marcaría el inicio de la leyenda bleatlemaníaca para la posteridad, así como el arranque de las exitosas carreras en solitario de John Lennon y Paul McCartney que ya se vislumbraban desde que ambos componían, de manera conjunta, las canciones para el grupo.
fuente: