ESTA EDICIÓN INCLUYE LOS 12 LP ORIGINALES
LA DISCOGRAFÍA COMPLETA DE THE BEATLES, REMASTERIZADA Y EN FORMATO VINILO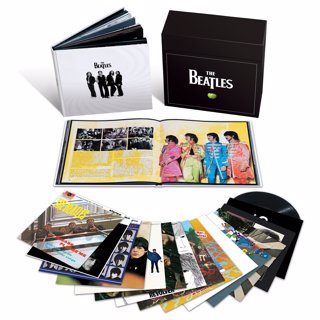 MADRID, 17 Nov. (EUROPA PRESS) -
En pleno auge del vinilo como medio inmortal y soporte duradero de música, la discografía completa de The Beatlesha sido remasterizada en estéreo y ya se puede adquirir en formato de 180 gramos.
En concreto, esta edición incluye los 12 LP originales de The Beatlesen Reino Unido, publicados entre 1963 y 1970, el Magical Mistery Tour edición americana y Past Masters Vol. 1 y 2, con caras A y B no incluidas en los álbumes, canciones de EP y rarezas.
Los 14 álbumes incluirán todos los detalles, incluido el poster del grupo enThe White Album, los recortables de Sgt. Pepper's Lonely Heart Club Band y las fundas interiores especiales de los discos.
Además, cada LP estará disponible individualmente y todos juntos en una caja de edición limitada a 50.000 ejemplares con un libro de 252 páginas escrito por Kevin Howlett, en el que dedica un capítulo a cada uno de los álbumes e incluye imágenes inéditas de la grabación de los discos.
El productor Rick Rubin, supervisor de los archivos de The Beatles, cree que lo conseguido por el grupo de Liverpool es algo parecido a un milagro. "Si lo miramos desde la perspectiva actual, como una de las bandas más populares del mundo, The Beatles publicarían un disco cada cuatro años, es decir dos álbumes en ocho años", dice.
"El hecho de que publicasen 13 álbumes en siete años y siempre renovando es algo que parece increíble. Está más allá de la capacidad humana", señala.
fuente:
http://www.europapress.es/chance/cineymusica/noticia-discografia-completa-the-beatles-remasterizada-formato-vinilo-20121117130801.html