En la primavera de 1968, el mundo parecía no tener descanso. Por un lado, surgían un sinnúmero de manifestaciones en contra de la guerra de Vietnam; por otro, la

urss

y los

ee. uu.

se encontraban al borde de la tercera guerra mundial, acababa de ocurrir el asesinato de Martin Luther King y, en las principales ciudades del mundo, estudiantes eran sometidos por rebelarse en contra del gobierno.
INTRODUCCIÓN
John Lennon escribió y compuso la canción en Rishikesh, India, durante un viaje de meditación con los demás beatles a finales del invierno de 1967. Su retiro no hizo que se aislara del todo, mucho menos de noticias de carácter mundial. Así que Lennon aprovechó la oportunidad para hacer una canción que comunicara al mundo lo que él pensaba acerca de las revoluciones.
"Revolution" es la primera canción abiertamente política de The Beatles. De hecho, Brian Epstein, manager de la banda, siempre había estado en contra de que se manifestaran políticamente, una prohibición que se extendió a las letras de las canciones. Cuando Epstein murió el 27 de agosto 1967, sin duda precipitó las cosas, porque, como dijo John Lennon en 1970: "Quise decir lo que pensaba de la revolución. Sentí que era hora de hablar, era hora de por fin responder a las preguntas sobre la guerra de Vietnam"
El hecho de que surgieran nuevos paradigmas y formas de pensamiento que explicaran y dieran solución a todos los problemas que aquejaban al mundo de ese entonces, llevó a John a cuestionarse sobre el sentido de los movimientos juveniles y a confrontarse con todos aquellos que se hacían llamar «revolucionarios», haciéndoles ver los errores en los que estaban cayendo mediante las diversas formas de tratar de cambiar al mundo.
John acerca de la canción, años después diría:
«En una de las últimas giras me dije: "Voy a responder a la guerra. No podemos ignorarla." Yo definitivamente quería que The Beatles dijeran algo acerca de la guerra.»
"Revolution" es la primera canción de The Beatles en hablar abiertamente de la política. Se desarrolla en un contexto político-social, particularmente de los movimientos de 1968, y es la respuesta de Lennon a los diversos grupos revolucionarios que exigían un apoyo financiero y moral.
El título es engañoso, porque la letra no hace énfasis a hacer un levantamiento en masa, sino más bien un desafío sobre cómo revolucionar las cosas, que según el autor debe hacerse sin violencia.
Con "Revolution", Lennon comenzó su compromiso político y otros valores como promover el pacifismo, esto seguiría siendo reflejado en "Give Peace a Chance" e "Imagine", que grabó en solitario.
Las Sesiones De Grabación
Al regresar del retiro espiritual de Rishikesh en el ashram del Maharishi Mahesh Yogi, The Beatles se reunieron en la casa del guitarrista George Harrison en Esher, Surrey, para ensayar y reproducir las cintas (demos) de las canciones compuestas en la India. "Revolution 1" fue la primera canción grabada para el White Album.
A partir del 30 de mayo de 1968, comenzaron las grabaciones en los estudios de EMI en Abbey Road, y John Lennon comenzó a trabajar en el título de la canción.


Durante las próximas sesiones de grabación en los estudios EMI, dieciocho tomas de "Revolution" fueron grabadas en un periodo en que se crearon otras canciones como "Hey Bulldog".
La última toma consintió en un largo jam de más de 10 minutos, cuando John Lennon llegó a la conclusión diciendo: (Bueno, he tenido suficiente!). Estas pistas grabadas,sirvieron como base para crear dos canciones del álbum: "Revolution 1" y "Revolution 9".
La grabación de la pista que finalmente se convirtió en revolution 1 tenia a John Lennon y George Harrison en la guitarra acústica, Paul McCartney en el piano, Ringo Starr a la batería. Después se agregaron distintos overdubs que consistían en la voz de Lennon, el bajo de McCartney, los coros de Harrison y McCartney, y el "waoum shoobidoo wap" en los coros.
La sesión del 4 de junio 1968 sería memorable. John Lennon, que quería que su voz sonara diferente,por eso grabo nuevamente su voz pero esta vez totalmente tumbado en el piso(era la unica forma en la que lograria sacar un sonido totalmente relajado)ademas alargó su voz utilizando tecnología del estudio.

McCartney y Harrison participaron activamente en la cancion, poniendo un coro en la voz de falsete en la que repetía "mama, papa, mama, papa". se añadieron instrumentos de percusion, un órgano, un largo solo de guitarra de Harrison, diversas modificaciones de la voz y dos bucles de sonido, creando de esa manera la toma 20 de la canción.
A pesar de todo, nada de este material sería y sólo los primeros 4 minutos de la toma 20 fueron utilizados para hacer "Revolution 1" del White Album, mientras que el resto sería recuperado por John Lennon y Yoko Ono para crear "Revolution 9"

.
«Count me out if it's for violence. Don't expect me on the barricades, unless it's with flowers.» / «No cuenten conmigo si de violencia se trata. No me esperen en las barricadas, a menos que sea con flores.»

John Lennon
"Revolution 1", que termina en fade-out, fue terminada el 21 de junio de 1968, aunque Paul McCartney no colaboró en esta última grabación debido a que se encontraba en los Estados Unidos.
La duración de la canción fue reducida y se incluyó la sección de vientos, cuatro trombones y dos trompetas. George Harrison añadió una última parte de la guitarra eléctrica para así dar por terminada la canción en la toma 22.
Ese mismo día John Lennon grabó la famosa frase "number nine, number nine" para "Revolution 9", canción en la que ya estaba trabajado en los días anteriores con Yoko Ono en los estudios EMI.


La versión titulada «Revolution 1» —la más calmada—, se eligió para ser parte del álbum The Beatles —mejor conocido como «White Album»— en noviembre de 1968, ya que se acercaba más al sonido de la banda en ese momento, lo cual no le agradó en absoluto a John.
Él había sugerido que «Revolution 1» fuera el single que promocionara tanto al nuevo disco como a la nueva marca discográfica de The Beatles —Apple Records—, pero los otros miembros del grupo y el productor, George Martin, sintieron que por ser muy tranquila no captaría la atención del público.
Revolution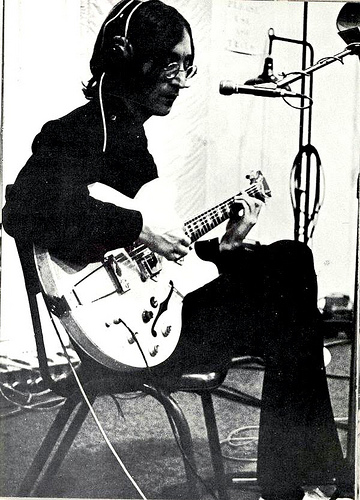 Lennon se dedicó a modificar su canción varias veces, con el propósito de que Paul pudiera ver lo que él estaba tratando de transmitir, pues él creía que la verdadera revolución era la que ocurría en la mente y no en las calles.
Según John, el mundo cambiaría para bien, siempre y cuando el cambio viniera desde adentro, en vez de hacerlo por medio de la violencia.
Es por ello que, entre la versión original y la versión rock, hay un cambio en la letra: mientras que en la primera dice «count me in», en la segunda versión cambia a «count me out», haciendo referencia al lado violento de las revoluciones y dando a ambas letras distintos sentidos y significados.

En esta nueva producción de revolution presenta a ringo starr en la bateria, un par de guitarras con fuzz,distorsionadas, en el centro amortiguado por un limitador de McCartney se arrastra tras la burlona voz de lennon que se persigue a si misma con una espontaneidad ruda y descuidada que se convierte en un acierto por si misma.
You say you want a revolution
. Well you know. 
We all want to change the world
. You tell me that it's evolution
. Well you know
. We all want to change the world
. But when you talk about destruction
, don't you know you can count me out? 
Don't you know it's gonna be alright
? Alright, alright.
Link sobre una Demo alternativa a la versión original
link: http://www.youtube.com/watch?v=utulKt_ub2I
Luego de varias semanas y de lanzar dos sencillos más, Lennon se apresuró a modificar su canción y experimentó en los estudios Abbey Road con sonidos distorsionados y volúmenes exorbitantes, con la intención de que el tema expresara lo que trataba de decir. El 9 de julio de 1968, después del remake de «Ob-La-Di, Ob-La-Da», The Beatles iniciaron los arreglos musicales de «Revolution».

La canción fue, por fin, terminada, grabada y lanzada el 26 de agosto en los ee. uu y en el Reino Unido el 30 del mismo mes como parte del lp Hey Jude, en el b-side del disco

La forma musical es un rock simple y de progresión con acordes de rollo, pero de elementos altamente procesados y enfoque hiperbólico distinguido en casi toda la pista. El sonido de "Revolution" es a menudo citado como presagio del heavy metal.
"Revolution 1"
fue grabada entre el 30 de mayo y 4 de junio de 1968, alrededor de 6 semanas antes de "Revolution" (lado B del sencillo "Hey Jude"), pero fue lanzada cerca de tres meses después en el álbum The Beatles. Lennon quería que fuera lanzada como un sencillo, pero otros miembros del grupo dijeron que era demasiado lenta como para publicarla en ese formato.
Lennon, un poco irritado, resolvió remezclar la canción en una versión alta y estridente como ninguna otra que The Beatles hubiera lanzado antes. En búsqueda de un muy distorsionado sonido de la guitarra que conecte directamente en la consola de grabación, la sobrecarga del canal, y el tono altamente distorsionado dejó muy satisfecho a Lennon y se convirtió en el sonido característico de la versión del álbum.
Datos curiosos sobre «Revolution»
A pesar de que el título de la canción es «Revolution», la palabra sólo se escucha una vez.

En 1987, la canción fue utilizada en un comercial de la marca Nike, siendo la primera vez que una versión original de la banda era escuchada en televisión. Los fans se volvieron locos y culparon a Michael Jackson —dueño de la mayoría de las canciones de The Beatles— y a Yoko Ono por haberlo permitido. El comercial no duró mucho tiempo al aire.

El sonido sucio de la guitarra fue creado al conectarla directamente a la tarjeta de audio. Sonaba tan distorsionado que muchos de los que compraron el single, intentaban regresarlo a las tiendas pensando que estaba defectuoso.

John Lennon quería que su voz tuviera un sonido inusual, por lo que la grabó acostado en el estudio. El famoso grito al principio de la canción fue logrado con una doble grabación.

Varios artistas y bandas se han encargado de hacer sus propios covers de la canción de The Beatles: Mötley Crüe, Mercy Me, Big Time Rush, Jim Sturgess —para la película Across the Universe (2007)—, The Head Shop y Stone Temple Pilots.
POSICIÓN EN LAS LISTAS DE ÉXITOS
En 1968, en Los Estados Unidos alcanzó el número 12 en la Billboard Hot 100 manteniéndose 11 semanas en el mismo puesto.
En el Record World alcanzó el número 2 y el 11 en Cash Box
FOTOS