10 años sin Harrison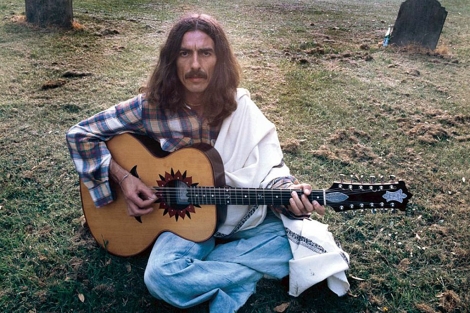 Harrison, después de la etapa beatle. | EFE
Liverpool acogerá dos conciertos en su honor con músicos que le conocieron

El Grammy Musseum de Los Ángeles ofrece una muestra con objetos fetiche

La BBC programará el documental de Martin Scorsese para homenajearle
Hace ya una década que
el 'Beatle tranquilo'
falleció en Los Ángeles. Tenía 58 años. Era el segundo del grupo en morir, tras el asesinato de
Lennon
, y aunque no arrastraba la legión de fans del tándem Lennon-McCartney, sus incondicionales nunca han dejado de reivindicarle.
Este 29 de noviembre, fecha de la efeméride, su Liverpool natal celebrará un concierto doble en su honor. ¿Los protagonistas? Artistas que le conocieron antes de ser una rock star, antes incluso de sumarse a
The Quarrymen,
embrión del grupo más venerado del mundo.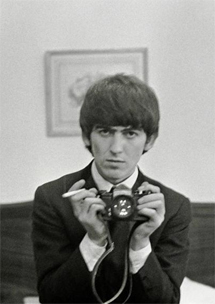 Fotograma de 'George Harrison: Living in the Material World', de Scorsese.
La cita principal se ha convocado a las 14.00 (hora local) en la sala de conciertos de St George's Hall. Actuarán Brute Force, miembros del Radha Krishna Temple -evidenciando su fe hindú-, Karen Shutt, The Mersey Beatles, Lee Christian y The Rebels, Singh Strings, Andre Barreau de The Bootleg Beatles y el Dovedale School Choir. El conductor será Arthur Kelly, uno de los Rebels originales y compañero de pupitre de Harrison en el Liverpool Institute.
Ya por la noche, el tributo se repetirá a las 20.00 en
The Cavern Club,
el mítico local que vio crecer a The Beatles. No será el primer homenaje a Harrison. Ni el último. Quizás el más importante hasta ahora fue el que le dedicaron sus amigos un año después de su muerte, un
concierto memorable,
capitaneado por Eric Clapton y con la presencia, entre otros, de
McCartney.
En agosto de 2009
se repitieron
los recuerdos y el pasado verano, Liverpool ya celebró actos en su honor.
Y es que aunque Harrison nunca fue el más jaleado de The Beatles,
dejó obras maestras como 'Here Comes The Sun' y 'Something'
, el primer 'single' no firmado por Lennon-McCartney que alcanzó el número uno en ventas de EEUU. Y supo labrarse un camino tras la disolución del grupo, como músico en solitario y como productor -creó Handmade Films para financiar 'La vida de Brian'-. Sobre sus espaldas pesa además la responsabilidad de haber embarcado al cuarteto en una búsqueda espiritual que marcaría el sonido 'beatle' de mediados de los 60.
Fetichismo en Los Ángeles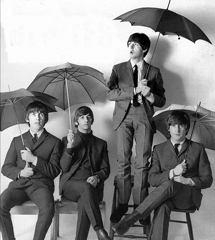 The Beatles en una imagen de 1965.
Los Ángeles, la ciudad en la que murió tras tres recaídas de cáncer, se suma al homenaje a los 10 años de su muerte. Lo hace con una exposición en
The Grammy Musseum,
bautizada como 'George Harrison: Living in the Material World'. Estará abierta hasta el próximo febrero y recoge fotografías hechas por y para el Beatle, vídeos y objetos que no se habían expuesto hasta ahora, como sus primeras guitarras, su pasaporte, sus cuadernos o el traje marrón que llevó en el Concierto por Bangladesh de 1971, en el que embarcó a Dylan, Clapton y
Ringo
para recaudar fondos para los refugiados en la antigua Pakistán Este. Entre los fetiches destaca un objeto mítico:
la Rickenbacker 360/12 que empezó a usar en 1964 y con la que inició la transición del sonido beatle hacia sendas eléctricas
.
La muestra comparte título con otro homenaje a su vida, el
documental firmado por Martin Scorsese,
que se estrenó el pasado octubre y recoge testimonios de personas cercanas al músico, como Ringo Starr, Yoko Ono, Jane Birkin, George Martin o Pattie Boyd, la mujer que le dejó por Clapton, y material de archivo que resalta lo importante que fue lo espiritual en su vida. La BBC, la cadena pública británica, ha querido sumarse a estos diez años de ausencia incluyéndolo en la programación de noviembre.
Ambos proyectos, el cinematográfico y el museístico, han sido impulsado por Olivia Harrison, la viuda del artista, que la última decada se ha centrado en la
Material World Charitable
, la organización benéfica que fundó en memoria de su marido. Sería el último tributo conyugal: "Creemos que ya hemos metido todo en el documental. Hemos puesto imágenes, fotos e incluso la voz de George de documentos inéditos", dijo Olivia cuando lo presentó en el Festival de San Sebastián,
descartando más 'altares' en su nombre
.
Pero espacios para recordarle hay muchos: incluso en Facebook se han creado grupos en su honor, como
éste
que pide ponerse una cita violeta en la cabeza para recordarle. Cualquier excusa es buena para hacer sonar
The Beatles
.
fuente:
http://www.elmundo.es/elmundo/2011/11/10/cultura/1320945960.html