Carteles, fotografías, recortes de prensa y documentos convierten en santuario la 'suite' del hotel que los músicos ocuparon en Barcelona en 1965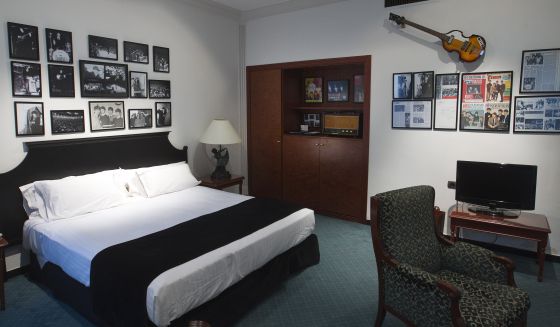 "Hello, Beatles!! Bienvenidos a Barcelona. Welcome to Barcelona. Discos Odeon". Los cuatro de Liverpool caminan en blanco y negro hacia uno. El cartel es grande. "Estaban destinados a pegarse por las calles. En Madrid no se hicieron, quizá porque la discográfica tenía entonces su sede en Barcelona", apunta el historiador –y sí, claro—
beatlemaníaco
especialista en la presencia en España de aquellos melenudos el vicedirector del Centro de Investigaciones Film-Historia de la Universidad de Barcelona, Magí Crusells.
El póster forma parte de su exquisita colección pero ahora preside el dormitorio de la
megasuite
111 del hotel Avenida Palace de Barcelona, la habitación en la que los padres de
Love me do
, un
single
que cumple ahora 50 años, utilizaron el 3 de junio de 1965 cuando su ya mítica actuación en la plaza Monumental. El aposento es, desde hace poco, The Beatles Suite, santuario con cerca de medio centenar de fotografías, portadas de revistas, artículos, carteles, informes y documentos oficiales y hasta una réplica del bajo que Paul McCartney utilizaba (un Höfner modelo 500/1), del que sólo quien sepa que el beatle era zurdo sospechará de su autenticidad. Dormir rodeado de todo ello es un sueño realizable entre 200 y 450 euros, según la temporada hotelera.
Discóbolo
.
Es de los primeros recortes con los que uno tropieza en la
suite
. La información no iba desencaminada, como demuestra la fotocopia del contrato que el promotor Francisco Bermúdez firmó el 5 de febrero de 1965 con News Enterprises y el representante de los músicos, Brian Epstein, también colgado de la pared. Fueron en realidad 5.000 libras de la época "libres de impuestos", por una doble actuación que especificaba claramente que durarían "de 1 a 30 minutos". Todo en poco más de un folio mecanografiado y remachado con una serpiente de 'x' que tachan a saber qué exigencia.
"Hoy, un contrato así de corto y conciso es inimaginable", apunta observador Crusells, sí, algo tan sorprendente como las relajadas poses de los músicos dentro de la habitación que captan las instantáneas de la "absoluta exclusiva" que se marcó Juanita Biarnés, fotógrafa del diario
Pueblo
pero también de la revista
Ondas
, en esta última publicación:
Una jornada con los Beatles en Barcelona
.
Fue Ringo quien le abrió la puerta de la
suite
: "¿Otra vez tú?", parece que le espetó el batería. Biarnés, por puro azar, se encontró a los músicos en el avión que los llevaba a Barcelona tras su concierto en Las Ventas de Madrid de la noche anterior. Allí ya les medio robó unas imágenes. Consciente de la oportunidad de su vida, los siguió hasta el hotel. Y les convenció de que le dejaran sacar unas más. Y así se ve a Paul guitarra española en ristre y en otra, fumando con George; a John, junto a una mesilla poblada hasta la angustia de refrescos y a Ringo estirado en una cama.
Las informaciones y testimonios de la época ubican a los Beatles por parejas (como solían dormir muchas veces) en las habitaciones 109 y 110, que se comunican ambas con la 111, que hacía las veces de salón.
En cualquier caso, es en la puerta de la
megasuite
111 donde se toma la fotografía de los cuatro músicos y, asomando por detrás, un jovencísimo Joan Gaspart de 19 años, que ya ejercía de hotelero en ese establecimiento de cinco estrellas fundado por sus padres en 1952. Sí, ya estaban en Barcelona esos peligrosos alborotadores:
SOS: llegan los Beatles
, rezaba el titular de la revista
TeleGuía
. "Nuestra juventud tiende hacia unos horizontes más positivos y de mayor responsabilidad", argumentaba la Bella Dorita en una encuesta a famosos (Marsillach, José Guardiola, Conchita Bautista, Josep Maria Espinàs…) para la revista
Nueva Ilustración Femenina
.
También es la misma la balaustrada del anfiteatro del salón Parrilla del hotel donde tuvo lugar una tumultuosa rueda de prensa previa al concierto y donde el cuarteto se deja inmortalizar con dos alocadas fans, con toda naturalidad. Hoy ese salón vive momentos menos glamorosos: banquetes, convenciones y, casi una vez al mes, cenas con espectáculo flamenco.
Los Beatles tuvieron que salir por las dos pequeñas puertas de la cocina del hotel que dan ya a Rambla de Catalunya para esquivar la multitud que se agolpó a las puertas del establecimiento en la Gran Vía. "La atracción más famosa del mundo" empezaba a las 10,45 de la noche, como recuerda una reproducción de la portada del programa de mano. "Esta me la pasó Bermúdez; nunca he visto el original ni sé si lo haré nunca: el de Las Ventas salió a subasta no hace ni un año por internet y se acabó adjudicando por 11.100 dólares", suspira Crusells, didáctico, como profesor que es del Instituto Pau Ausit de Ripollet.
La gente (unas 18.000 personas) en sillas en el ruedo, esperando una actuación que por la que habían pagado sacrificadamente entre 75 pesetas (la más barata, cuando el salario mínimo interprofesional era de 2.400 pesetas) y 400 la más cara; la enfermería de la Monumental, de camerino por arte de unas gruesas cortinas; los artistas accediendo al escenario por la salida de Toriles y las famosas instantáneas con el capitán y el cabo de la policía para el hijo del primero y en la que, sobre todo Paul, los ingleses se mofan saludando. Era el concierto final de la gira europea que les había llevado por Italia y Francia y el relajo (y quizá también el repelús ideológico) afloró.
Con esas imágenes en la pared de la cama se acuesta el huésped de la
suite
, muchas veces "altos ejecutivos de empresas que hacen aquí convenciones y parejas de recién casados muy fans de los Beatles", recita Javier Tomás, subdirector del hotel, que recuerda sin embargo a una chica norteamericana a quien por sus 18 años sus padres le pagaron un viaje a Europa para recorrer las ciudades y los hoteles donde estuvieron los Beatles "y de los pocos lugares que se sabe seguro dónde durmieron de verdad es aquí; ¡le temblaban las piernas!".
La media hora de actuación, que arrancó cercana la medianoche, no cansó mucho a los chicos. La prueba es que llegaron a encontrarse en la ciudad con la cantante Beryl Bryden, como muestra una imagen de ella en la habitación 111 aparecida en la revista inglesa
New Musical Express
.
El escándalo que montaron fue tal que algunos clientes se quejaron y la dirección avisó a Bermúdez y éste, a Epstein. Dormían ambos unas habitaciones más allá de los chicos. Epstein tardó mucho en salir de su aposento y cuando lo hizo estaba impoluto: afeitado y pulcramente vestido. De esa guisa llamó a la famosa habitación y les dijo que la fiesta se había acabado. Y le obedecieron sin rechistar. "Si no me visto así no hubiera podido imponerme a ellos", le confesó al productor español…
Un álbum (de 96 cromos), las colas en el desaparecido Fémina para ver la película
¡Qué noche la de aquel día!
(con la correspondiente reproducción de la autorización de la Dirección General de Cinematografía del 4 de septiembre de 1964) y hasta un radio-tocadiscos de la época salpican la
suite
, a la que se irán añadiendo detalles, tal y como lo imagina Tomás: una reproducción de una entrada al concierto (una original se vendió hace poco más de un año por 900 euros), la reproducción en el cabezal de la cama del logotipo de The Beatles que llevaba la batería Ludwig con la que tocaron en la Monumental; el hilo musical con los conciertos de esa noche y hasta una figura de los cuatro de Liverpool en el balcón de la suite que da a la calle.
Una manera, quizá, de olvidar que, con tanto ajetreo, tras desayunar y salir casi al galope, no firmaron en el libro de oro del hotel. "Pasaron los Beatles y no pasó nada"; "Los hermanos Marx de la era ye-yé vistos y no vistos", minimizó
Hola
, burleta, una parte de la prensa. Suerte que no pasó nada...
fuente:
http://ccaa.elpais.com/ccaa/2012/10/06/catalunya/1349558535_014022.html