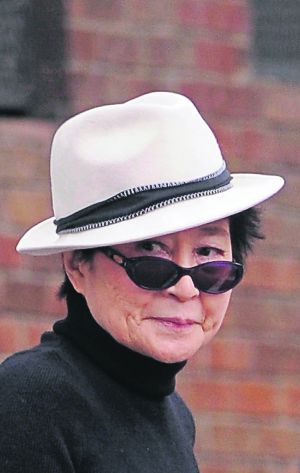 Paul McCartney ha exculpado a la viuda de Lennon de la ruptura de los Beatles
Tras cuatro décadas, la artista ha probado que se basta sola para encarar su leyenda negra
ampliar foto
Por mucha resonancia que hayan tenido,
las recientes declaraciones de Paul McCartney
exonerando a Yoko Ono de la ruptura de los Beatles no son una sorpresa. El músico ha dicho al presentador David Frost: "No fue ella, el grupo ya estaba roto".
Y añadía que le debemos himnos como
Imagine:
"No creo que John la hubiera compuesto sin Yoko. No podemos culparla de nada. Cuando Yoko hizo su aparición, parte de su atractivo era su lado vanguardista, su visión del mundo. Le enseñó a ser de otra manera, algo que le atrajo enseguida. Se habría marchado igualmente del grupo antes o después".
La entrevista aún no ha visto la luz, se emitirá en la cadena Al Jazeera este mes, pero el titular ha desempolvado todos los epítetos dedicados a la artista
fluxus
durante más de cuatro décadas.
En el imaginario popular, la japonesa ha representado el papel de bruja oficial del pop (con permiso de la otra viudísima, Courtney Love). Ella misma tituló en 2007 uno de sus discos
Yes, I'm a witch
(sí, soy una bruja). Incluso existe una expresión en argot,
pulling a Yoko
(algo así como
hacerse un Yoko),
para referirse a la típica novia que te separa de tus colegas.
Ella parece centrar sus esfuerzos en acumular otros titulares, sobre sus donaciones caritativas o una obra artística destinada a difundir la paz en la estela de aquella
performance
de denuncia junto a John durante su luna de miel en la cama de un hotel en Ámsterdam. Pero, más allá de su apariencia estoica, Ono encuentra el perfecto consuelo ejerciendo de albacea del boyante legado del que fuera su tercer y último marido. Según publicó en octubre
Forbes,
Lennon es
la sexta celebridad muerta
que más beneficios anuales genera.
Solo en el último año, unos 9,5 millones de euros. Aparte de los derechos de sus discos (reeditados en versión remasterizada en 2010, coincidiendo con el que habría sido el 70º aniversario del cantante), Ono ha engordado su cuenta saltándose a la torera la promesa que se hicieron su pareja y los otros
beatles:
no vender jamás sus canciones
para anuncios publicitarios
.
En 2009, McCartney, Ringo Starr, Olivia Harrison (viuda de George) y Yoko Ono compartieron escenario para presentar el videojuego
The Beatles: rock band.
El año pasado, en el estreno del espectáculo de los Beatles del Cirque du Soleil en Las Vegas, también estaban todos. Tras cada foto que se hacen juntos subyace la voluntad de seguir amasando dinero.
Macca y Yoko enterraron el hacha de guerra hace tiempo. A mediados de los noventa grabaron una canción juntos en recuerdo de la bomba de Hiroshima con la excusa de la publicación de
The Beatles anthology.
Desde entonces parece existir un pacto de no agresión. Y hasta de adhesión. La artista secundó al autor de
Yesterday
en su reciente campaña por los
"lunes sin carne"
(ambos son vegetarianos) para reducir la emisión de gases invernaderos.
performer
que un día animó a Lennon a invertir en un negocio ruinoso de vacas lecheras que acabarían yendo inevitablemente al matadero (según aireó Albert Goldman en la
controvertida biografía
Las vidas de John Lennon).
Corría el año 1978 y los problemas de la pareja con el fisco estadounidense les llevaron a experimentar fórmulas de negocio, muy a pesar del compositor. Finalmente, él optó por recluirse en casa y dejó a ella las riendas financieras. "Fue entonces cuando la artista anticomercial y antimaterialista se transformó en una astuta mujer de negocios", escribió el otro gran biógrafo del músico, Philip Norman.
A Norman le concedió Ono horas de entrevistas para mostrarse después
descontenta por su libro
,
John Lennon,
publicado en 2008. La viuda lleva demasiados años invertidos en cimentar una imagen beatífica del ídolo como para permitir que nadie se la desmonte aireando sus depresiones, episodios violentos o su consumo de drogas. En 2009 logró que un juez frenara la salida del documental
3 days in the life.
En él se recogían imágenes domésticas de Lennon en 1970, a pocas semanas de la disolución de su grupo, fumando marihuana junto al activista negro Michael X y bromeando sobre echarle LSD en el té a Nixon. Las cintas las había filmado el segundo esposo de Yoko, el promotor de arte Anthony Cox, que en 2000 las vendió a un coleccionista por 100.000 euros.
Juega a que vale más por lo que calla que por lo que habla. Pero tiene previsto publicar sus memorias antes de 2015
Yoko Ono, que cumple 80 años en febrero, no necesita que la defiendan. No es difícil encontrar impudorosas anécdotas sobre su vida –particularmente junto a John– en cualquiera de sus entrevistas. En 2010
contaba en
Esquire:
"Uno de los motivos por los que sobrevivo es la increíble energía negativa destinada a borrarme del mapa".
Y añadía: "Creo en una regla universal: hacer daño a los demás es malo. Si hablara, podría hacer daño a algunas personas. Incluso aunque esas personas se lo merezcan, sus hijos o nietos no tienen por qué saber que son mala gente".
No es difícil deducir que este dardo iba dirigido a Cynthia Lennon, la primera esposa, a la que le arrebató al genio, que ya se ha despachado a su vez con dos libros destinados a destruir a Yoko.
La japonesa ha jugado siempre a que vale más por lo que calla que por lo que habla. Hasta ahora. Planea publicar sus memorias antes de 2015. Probablemente obtengamos una visión sesgada del fantasma de Lennon, pero lo que está claro es que servirá para seguir engrosando las arcas de la viuda eterna.
fuente:
http://elpais.com/elpais/2012/11/02/gente/1351888464_330967.html