Paul McCartney tenía una perra, llamada Martha, a la que cuidó y mimó con mucho cariño y amor, su fiel mascota que lo acompañó en numerosos conciertos y ensayos de la banda, y tuvo la suerte de conocer a los componentes del famoso grupo de los Beatles. Paul comentó en alguna entrevista que a John Lennon le gustaba ver el cambio de actitud de su amigo Paul cuando estaba en compañía de su perra.
De hecho, tal era su afecto por Martha que la canción "Martha My Dear" (Mi querida Martha), compuesta por el artista e incluida en el álbum The Beatles (1968), está inspirada en su perra
Acerca de esta canción Paul dijo: Mientras que todo el mundo piensa que es
una canción sobre una chica llamada Martha, es realmente sobre mi perra,
y nuestra relación es platónica, créanme''
La perra, puedes ver que aparece en la canción ''Something'' junto
con linda y paul. Y también en ''Free as a bird''
La canción Martha My Dear contiene una línea de
piano
que se repite a través de la composición, además de
instrumentos de viento-metal
, típicos de los temas de los
Beatles
en aquella época. La canción
modula
suavemente a través de varias
escalas musicales
.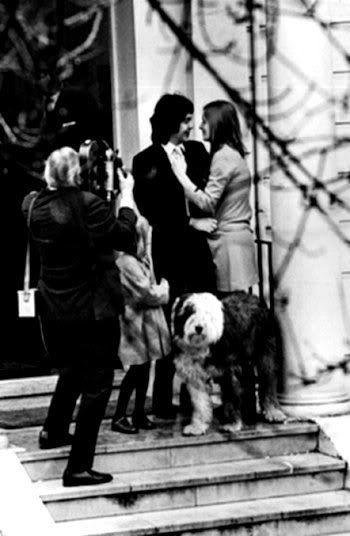 se dice que a Paul le regalaron a Martha siendo un cachorrito y que murió ya de muy mayor en el año
1.981, se cuenta también que la perra que sale sujetando Paul en su álbum Paul Is Live del ´93 es Arold, nieto de Martha y su dueño es James el hijo de Paul.
Uno de los descendientes también de Martha es Jet, de ahí el nombre de la Canción.
Pero esto ya es otro tema que indagare mejor, para sí estar más seguro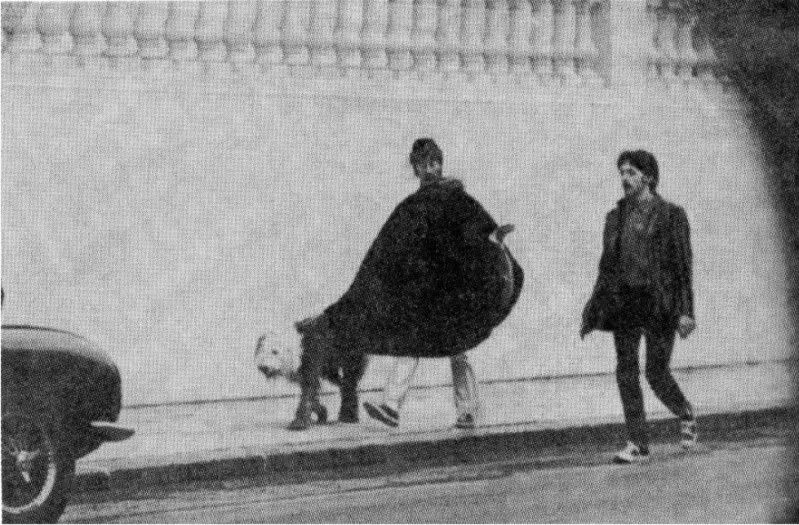 En Noviembre de 1968 vió la luz The Beatles, el álbum doble de los Fab Four más conocido como el Álbum Blanco.
Más allá de la exultante recepción de la prensa -expectante ante cualquier noticia de la banda de Liverpool , algunos dedos señalaban una canción compuesta por Lennon/McCartney pero cantada por Paul: "Martha My Dear".
¿Quién era Martha? Muchos dieron por sentado que el tema era una carta de amor a la actrizJane Asher, con quien Paul había terminado recientemente (luego de haber estado comprometido), y quien ya había inspirado muchas canciones del Beatles, como "For No One" and "We Can Work It Out".
Muchos otros, especialmente los paparazzi, se desesperaron por descubrir alguna Martha de carne y hueso que hubiese entrado en la vida de McCartney.
No estaban lejos, pero tampoco cerca. En 1966, unos años antes de grabar el White Album, Paul compró y se mudó a una casa en Cavendish Avenue, Londres. Un tiempo despúes, Martha entró en su vida.
Pero no se trataba de la amante que buscaban los tabloids: McCartney llevó a su casa una cachorra de pastor inglés, una perra que terminaría acompañandolo a través de dos matrimonios y a través de los últimos –y tumultuosos- años de la banda más importante de la historia.
En su libro de 2005, A Hard Day's Write, el historiador Steve Turner aseguró que 'Martha' era el nombre que McCartney le daba a su musa interna, inspiradora de la música y las letras que componía.
Escribirle a la musa personal ha sido algo recurrente en el rock. Paul Simon escribió sobre la suya en "Cecilia" y Bob Dylan lo hizo en "Love Minus Zero/No Limit". Parece, entonces, que fue en honor a su musa que Paul nombró a la cachorra como 'Martha'.
En los años siguientes, Paul mencionaría a la perra en numerosas entrevistas, explicando que la ella misma pasaría a ser una fuente de inspiración, así como también destinataria de su "amor platónico".
En Many Years From Now, la biografía sobre el Beatle publicada en 1998 por Barry Miles, Paul diría sobre Martha:
"Era una perra a la que quería muchísimo. Recuerdo que John [Lennon] se sorprendió al verme sentir tanto amor por un animal. Me dijo: 'Nunca te había visto así antes'. Y pensándolo bien, no, nunca me había visto así. Sólo cuando estás abrazado a un perro puedes ponerte de esa forma."
En una larga entrevista de 1971 a la revista Life, Paul McCartney le contó a su público -y al mundo- que existía una vida después de los Beatles, y que ésta podía ser feliz.
Para entonces, ya estaba casado con Linda, con quién tendría tres hijos, formaría los Wings, y junto a quien permanecería hasta su muerte, en 1998.
En la entrevista, Paul pintó un retrato de una vida tranquila, de disfrutes cotidianos, alejada de la locura de la Beatlemanía.
"Tratamos de no organizar nuestras vidas demasiado. Decidimos las cosas en el fragor del momento. Hace poco estábamos en Escocia, y decidimos hacer un viaje a las Islas Shetland.
Nos apilamos en el Land Rover con los dos niños, nuestro pastor inglés Martha, un montón de cosas en el baúl y la palangana de Mary en el techo".
Una vida mundana, donde su familia era el centro, y en el centro de su familia estaba Martha. Nunca se supo hasta cuando vivió la perra, pero muchos años después una cría de ella apareció cruzando Abbey Road con McCartney en la tapa de su álbum Paul Is Live.