Hace cinco décadas, y con la promesa de un día volver, The Beatles realizaron su última presentación en The Cavern Club, lugar donde comenzó la carrera musical del cuarteto más famoso del mundo
CIUDAD DE MÉXICO,
3 de agosto
.- Hace 50 años, el 3 de agosto de 1963 John Lennon, Paul McCartney, Ringo Starr y George Harrison por última vez se presentarían como grupo en el escenario de The Cavern, lugar que les abrió sus puertas desde 1957, dejándolos tocar las primeras canciones de lo que sería una de las bandas más importantes en la historia de la música: The Beatles.
Durante dos años y medio, de 1961 a 1963, The Cavern Club se convirtió en la casa de The Beatles, donde comenzaron a escribir su historia y, a la par que conquistaban el resto del Reino Unido y Europa, la banda significaba uno de los principales actos del lugar que, aún hoy en día, se encuentra ubicado en Matthew Street, Liverpool, Reino Unido.
Festejo.

The Cavern Club tiene planeado el festejo por los 50 años que han pasado desde la última vez que The Beatles se presentaron en el lugar ubicado en el número 10 de Mathew Street en Liverpool. Desde ayer viernes y hasta mañana el lugar tendrá eventos especiales al respecto, los cuales incluyen a la banda residente del lugar presentada por Neil Brannan, quien ha sido el anfitrión por casi 20 años de la Semana Anual de The Beatles en Liverpool. Los precios oscilan entre 10 y 15 libras esterlinas la entrada.
Varias estancias en Hamburgo, Alemania, y su trabajo como acto abridor de Tony Sheridan a inicios de la década de los 60 hicieron que su ascenso en el gusto del público joven, especialmente en el de su natal Liverpool, fuera la semilla de lo que poco tiempo después se conocería como Beatlemanía. Pero nada de esto hubiera sucedido si los chicos no hubieran tocado a lo largo de 30 meses, 292 ocasiones, en The Cavern Club, donde a finales de 1961 fueron descubiertos por quien se convertiría en su manager, Brian Epstein.
Con una base de fans bien cimentada en la ciudad portuaria, The Cavern Club anunció que los boletos para la presentación de The Beatles el 3 de agosto de 1963 —justo después de tocar en el Playhouse Theater de Manchester, Inglaterra— estarían a la venta —a un chelin la entrada, equivalente a 50 centavos de libra esterlina actual— desde el 21 de julio del mismo año, los cuales se agotaron en tan sólo 30 minutos.
"Esa presentación se dio solo porque Brian (Epstein) no los pudo meter a tocar en Grafton Ballroom una noche antes, ya que Albert Kinder, promotor del lugar, dijo que para que tocaran necesitaba tenerlos firmados con contrato, lo cual enfureció a Brian, ya que él tenía otros planes para ellos. Así que nos pidió que los apuntáramos para la siguiente noche, sábado 3 de agosto. Ya había agendado a todas las bandas que tocarían esa noche, pero si decía que no seguramente Brian hubiera ido con Ray McFall (dueño del lugar) y él hubiera dicho algo como: 'claro, nosotros los recibiremos'.
Mar de gente.

Pasó de todo en la última presentación del cuarteto.
"A The Beatles se les pagó por esa presentación 300 libras, que era muy buen dinero. La entrada costaba 10 chelines, lo que quiere decir que el club logró sólo 250 libras de admisión y teníamos que pagarle al staff del local y a los grupos, por lo que esa noche no hubo ganancias", recordó Bob Wooler, DJ de The Cavern, durante una entrevista con Spencer Leigh, historiador y autor de The Cavern: The Most Famous Club In The World .
Esa noche Paul, Ringo, George y John compartieron el escenario con The Escorts, The Merseybeats, The Road Runners, Johnny Ringo and the Colts y Faron's Flamingos. Originalmente el showestaba programado para comenzar a las 19:00 horas, pero con la anexión de The Beatles al cartel se tuvo que adelantar una hora, dando inicio a las seis de la tarde y llegando a su fin a las 23:30 horas.
"Yo estuve en el último show que The Beatles dieron en The Cavern Club. Estaba tocando en un mar de gente y había tantas personas y tan poco espacio que dos miembros de mi banda colapsaron y tuvieron que sacarlos cargando", explicó a Leigh, Faron, vocalista de Faron's Flamingos.
Durante la presentación de The Beatles un apagón dejó en oscuridad total el lugar, sin que los instrumentos se pudieran escuchar, pero eso no fue impedimento para que los chicos de Liverpool continuaran con el show por el que la gente había pagado. Mientras la energía eléctrica regresaba al lugar, McCartney y Lennon improvisaron de manera acústica When I'm Sixty-Four —tema que no lanzaron sino hasta 1967—, sin embargo Lennon no estaba muy contento con las instalaciones.
Tony Crane, fundador de The Merseybeats, le contó al historiador que justo antes de la presentación del cuarteto de Liverpool, él, junto con su banda tuvieron su turno en el escenario con una recepción increíble por parte del público, sin embargo The Beatles no estaban muy contentos e incluso escuchó decir a Lennon que nunca debieron haber vuelto a ese lugar.
"Todo estaba húmedo y mojado por el calor, por lo que les dijimos que se aseguraran de no resbalarse en el escenario. Una vez que las paredes se humedecían, la condensación del vapor caía sobre el escenario y se volvía peligroso, y esto se comprobó cuando conectaron los instrumentos y ya no hubo corriente eléctrica. Normalmente, John hubiera hecho algunas bromas al respecto, pero esa vez estaba de tan mal humor que decidió bajar del escenario", recordó Crane.
Tras esa última presentación Brian Epstein le prometió a Wooler que The Beatles regresarían a tocar eventualmente a The Cavern Club cuando las presentaciones en otros sitios les brindaran un espacio libre para volver a Liverpool. La popularidad de la agrupación no le permitió a Epstein mantener esa promesa, convirtiendo ese show en el último en aquel sitio que vio nacer a la banda.
"The Beatles eran muy profesionales y no se andaban con rodeos. Sentíamos que era como el canto del cisne (metáfora con la muerte en
El lago de los cisnes
) y que nunca más los tendríamos en The Cavern."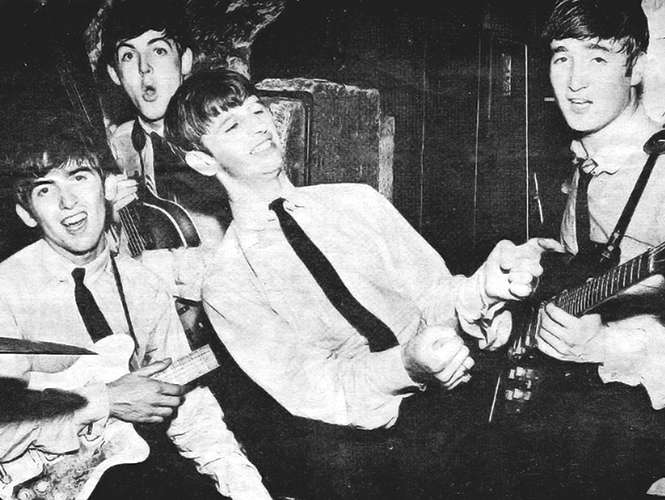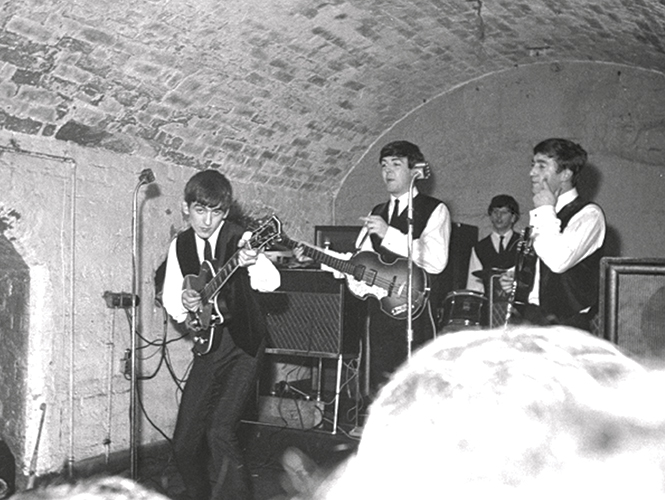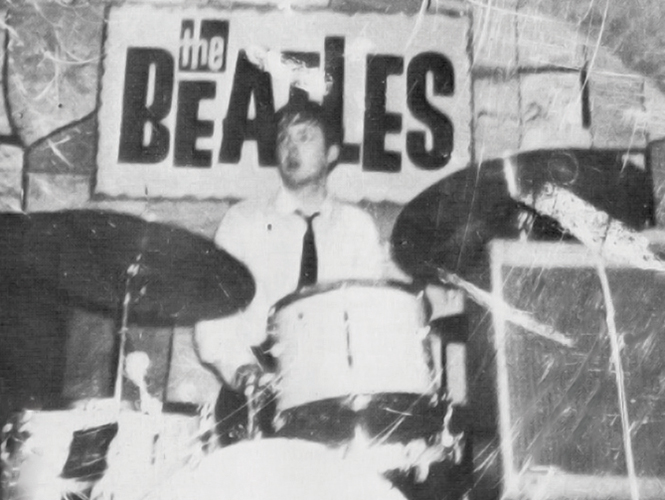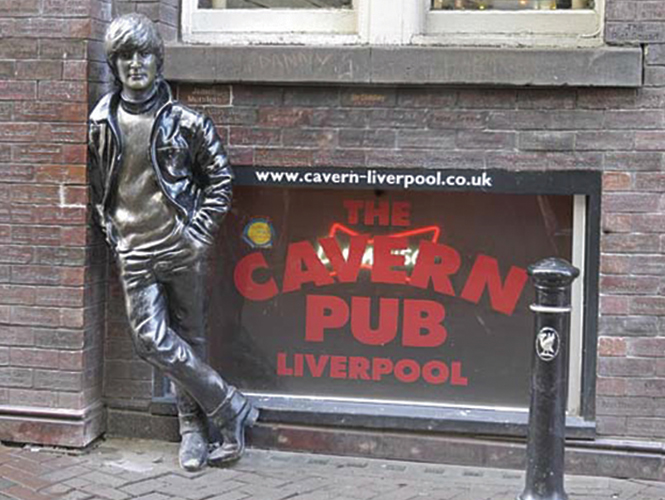 The Beatles
3 de agosto de 1963.


Lugar: The Cavern Club.
Entrada : 10 chelines (Hoy, 50 centavos de libra esterlina).


Los boletos se agotaron en 30 minutos.
500 asistentes.


Cinco horas y media de show.


Compartieron cartel con The Escorts, The Merseybeats, The Road Runners, Johnny Ringo and the Colts y Faron's Flamingos.


Esa noche, The Beatles recibió un pago de 300 libras esterlinas .


La última presentación se realizó un mes después de que la banda grabara She Loves You y seis meses antes de su primer viaje a Estados Unidos.
La banda tocó 292 veces en The Cavern Club.


El 9 de febrero de 1961 la banda se presentó por vez primera.


El 9 de noviembre de 1961 Brian Epstein vio a The Beatles por primera vez en The Cavern Club.


En 1997 se develó una escultura de John Lennon fuera de l lugar.