Dick Rowe ingresó en la historia como el cazatalentos que rechazó a la banda
Vee-Jay Records perdió un contrato con el legendario grupo por sus trapacerías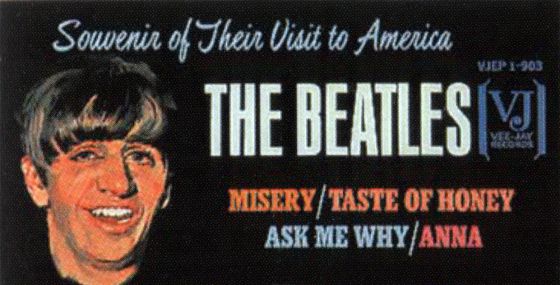 Elepé de los Beatles editado por Vee-Jay, en Estados Unidos.
Un error y tu reputación se va al carajo. Recuerden: Dick Rowe fue uno de los pilares del sello Decca, pero ha ingresado en la historia como "el cazatalentos que rechazó a
los Beatles
"
. Un pecado de diferente naturaleza cometió Vee-Jay Records, discográfica de Chicago que a principios de 1963 firmó un contrato para editar en Estados Unidos a los Beatles. Sin embargo, perdió esa mina de oro por sus trapacerías.
A principios de 1963, en Capitol, sucursal californiana de EMI, nada querían saber de los Beatles; ni siquiera entendían su pronunciación. Desesperada, EMI cedió sus mastersa Vee-Jay, que buscaba fichar a un baladista, Frank Ifield; los Beatles entraron en un paquete de 2x1.
Nos cuentan la saga de los Beatles como una marcha triunfal pero, en muchos momentos, aquello pudo atascarse. A pesar de las buenas relaciones de Vee-Jay con las emisoras de Chicago, los primerossingles de los Beatles apenas sonaron. Ante el escaso entusiasmo, retrasaron su primer elepé,Introducing The Beatles. Mientras tanto, Capitol había rectificado y preparaba una campaña colosal para lanzar a "los melenudos". Con su visita de 1964, la beatlemaníaexplosionó en Estados Unidos y, de rebote, en el mundo entero.
Ante la furia de Capitol, Vee-Jay vendió millones de discos a partir del puñado de temas que controlaba, sacando elepés inverosímiles tipo The Beatles vs. The Four Seasons. Capitol alegaba que los de Chicago habían perdido sus derechos por no pagar los royalties por las (escasas) primeras ventas en singles.
Con todo, Vee-Jay no resultaba una mala elección para un grupo británico desconocido. Motown presume de que fue la primera discográfica con propietario negro que triunfó; en verdad, Vee-Jay se adelantó por seis años a la compañía de Detroit. Y cubría un territorio mayor: grababa doo wop, jazz, blues profundos, góspel, soul. Detrás, estaban dos locutores de radio, Vivian Carter y Jimmy Bracken, que asumían que una independiente multiplicaba sus posibilidades si atendía a diferentes mercados.
Vee-Jay ponía velas a Dios y al diablo. Lanzaba vibrantes grabaciones religiosas de Staple Singers o Swan Silvertones. Y trabajaba con bluesmende colmillo retorcido. John Lee Hooker era irregular en sus ritmos y propenso a grabar bajo seudónimo. Los problemas de Jimmy Reed eran más serios: alcohólico, su mujer se colocaba a su lado en el estudio y le susurraba lo que debía cantar.
Presidiendo Vee-Jay estaba Ewart Abner, disquero mítico. De vez en cuando, vaciaba la caja de la compañía y se largaba a Las Vegas. Volvía con una sonrisa de oreja a oreja o farfullando excusas, los empleados tardarían en recibir sus sueldos. Le adoraban en las radios: en una convención de locutores, montó la hospitality suite con 15 prostitutas llegadas desde Escandinavia.
Al desatender sus compromisos financieros, Abner se quedó sin los Four Seasons o los Beatles. Con una reputación deteriorada y acreedores escépticos, Vee-Jay se declaró en quiebra en 1966. Abner, por el contrario, siguió prosperando: saltó a Motown, imperio que llegaría a dirigir en los setenta.
Recopilaciones como Big boss man: the Vee-Jay story (Resistencia)muestran la extraordinaria racha de aciertos de la compañía. Abundaron los one-hit wonders, como Gene Chandler (Duke of Earl), Betty Everett(It's in his kiss) o Gene Allison (You can make it if you try). Pero también lanzó a Jerry Butler, Dee Clark, los Dells o Donnie Albert. Les perdió la megalomanía, el intento de establecerse en Los Ángeles. Y el talón de Aquiles de las independientes: el desfase entre gastos (como fabricar vinilos, pagados a tocateja) y los ingresos (los distribuidores, siempre tan remolones). Ni el fugaz toque de rey Midas de los Beatles fue suficiente para permitirles sobrevivir.